The end of the year marks the perfect time to look back on your reading life and reminisce about the books that blew you away, the books that you honestly can't remember what they're about, and the books that you DNF'd. Here you will find the favorite books that the staff at USCL read in 2020, including why we loved those books and links for you to check them out yourself. After you've taken a gander at our favorites, let us know on Facebook and Instagram what were the best books you read in 2020!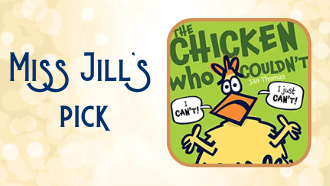 The Chicken Who Couldn't by Jan Thomas
What it's about: It has not been a good day for Chicken. He went to the fair with Farmer, but didn't win even one ribbon. And on the way home, the road is so bumpy that Farmer's truck knocks Chicken right out! He's been left behind! It's the end for Chicken. Surely, he can't walk all the way home. Or avoid the hungry fox along the way. Or maybe…he can?
This rollicking picture book will have little ones in giggles over Chicken's misadventures and chiming in on the plucky fowl's mantra "I am a strong and powerful and nice-looking chicken!" as he achieves more than he thought possible.
Why Miss Jill loved it: This is a story about overcoming obstacles and believing in yourself. It is so funny!
Check it out >> Library >> Libby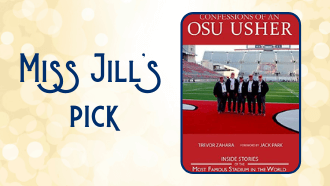 Confessions of an OSU Usher: The Ohio State Buckeye Usher Journal by Trevor Zahara
What it's about: The Ohio State Buckeye Usher Journal features inside stories of the most famous stadium in the world. Trevor Zahara, alongside photos and stories from his fellow ushers, explores the sports history and traditions of The Ohio State University from the unique perspective of a stadium usher. Exclusive stories of coaches and teams will appeal to all who love OSU athletics, and will satisfy the curiosity of those who wonder what happens in The Horseshoe when the doors are closed.
Why Miss Jill loved it: It was interesting to hear some of the experiences of the OSU ushers. They are very dedicated. GO BUCKS!
Check it out >> Library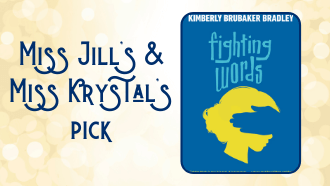 Fighting Words by Kimberly Brubaker Bradley
What it's about: Ten-tear-old Della has always had her older sister, Suki: When their mom went to prison, Della had Suki. When their mom's boyfriend took them in, Della had Suki. When that same boyfriend did something so awful they had to run fast, Della had Suki. Suki is Della's own wolf -- her protector. But who has been protecting Suki? Della might get told off for swearing at school, but she has always known how to keep quiet where it counts. Then Suki tries to kill herself, and Della's world turns so far upside down, it feels like it's shaking her by the ankles. Maybe she's been quiet about the wrong things. Maybe it's time to be loud.
In this powerful novel that explodes the stigma around child sexual abuse and leavens an intense tale with compassion and humor, Kimberly Brubaker Bradley tells a story about two sisters, linked by love and trauma, who must find their own voices before they can find their way back to each other.
Why Miss Krystal loved it: This book stuck with me long after I read it and I honestly want to put it in everyone's hands, especially parents and age-appropriate kids. Though it's a middle grade novel, it doesn't read as such. It tackles sexual assault and speaking up in a way for kids to understand and apply in their life while also reeling adults into the story. Della is also the best thing ever. It's just so great.
Why Miss Jill loved it: The characters were strong people that were trying their best with the life that they had.
Check it out >> Library >> Libby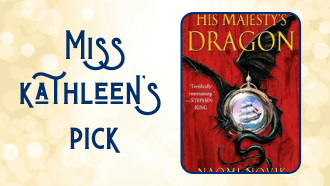 His Majesty's Dragon by Naomi Novik
What it's about: Aerial combat brings a thrilling new dimension to the Napoleonic Wars as valiant warriors ride mighty fighting dragons, bred for size or speed. When HMS Reliant captures a French frigate and seizes the precious cargo, an unhatched dragon egg, fate sweeps Captain Will Laurence from his seafaring life into an uncertain future – and an unexpected kinship with a most extraordinary creature. Thrust into the rarified world of the Aerial Corps as master of the dragon Temeraire, he will face a crash course in the daring tactics of airborne battle. For as France's own dragon-borne forces rally to breach British soil in Bonaparte's boldest gambit, Laurence and Temeraire must soar into their own baptism of fire.
Why Miss Kathleen loved it: It's kind of like a cross between the Anne McCaffrey's Dragon Riders of Pern and Patrick O'Brien's Master and Commander. Great characters (especially the dragons!), and I like the history/fantasy crossover.
Check it out >> Library >> Libby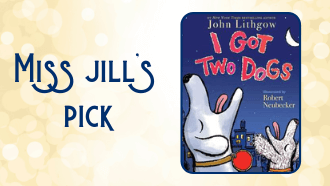 I Got Two Dogs by John Lithgow
What it's about: Fanny and Blue may not be the smartest dogs, and they may not be the best-behaved dogs, but they are definitely the most-loved dogs.
John Lithgow's bouncy song - in the book and on the accompanying CD - is based on his own family's two dogs. And Robert Neubecker's eye-popping illustrations capture the joy of all things dog.
Why Miss Jill loved it: These 2 dogs get into so much trouble, but the owner loves them anyway. This story can be read or sung.
Check it out >> Library >> Libby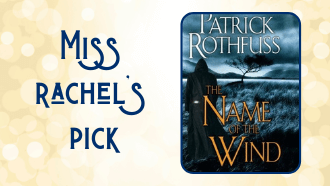 The Name of the Wind by Patrick Rothfuss
What it's about: My name is Kvothe.
I have stolen princesses back from sleeping barrow kings. I burned down the town of Trebon. I have spent the night with Felurian and left with both my sanity and my life. I was expelled from the University at a younger age than most people are allowed in. I tread paths by moonlight that others fear to speak of during day. I have talked to Gods, loved women, and written songs that make the minstrels weep.
You may have heard of me.
So begins a tale unequaled in fantasy literature--the story of a hero told in his own voice. It is a tale of sorrow, a tale of survival, a tale of one man's search for meaning in his universe, and how that search, and the indomitable will that drove it, gave birth to a legend.
Why Miss Rachel loved it: This book had the feeling of an epic fantasy. It's the story of someone once great pretending not to be, telling the story of his life. Beginning the tale when he was just a child, it's like Harry Potter for adults in all the best ways.
Check it out >> Library >> Libby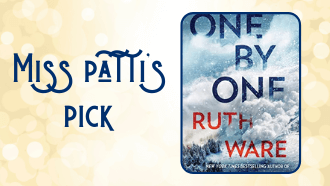 One by One by Ruth Ware
What it's about: Getting snowed in at a beautiful, rustic mountain chalet doesn't sound like the worst problem in the world, especially when there's a breathtaking vista, a cozy fire, and company to keep you warm. But what happens when that company is eight of your coworkers…and you can't trust any of them?
When an off-site company retreat meant to promote mindfulness and collaboration goes utterly wrong when an avalanche hits, the corporate food chain becomes irrelevant and survival trumps togetherness. Come Monday morning, how many members short will the team be?
Why Miss Patti loved it: She's amazing at the "who done it" mystery books. So many twists and turns. I think I know who did it, and that changes so many times during the book. The final reveal is always a stunner.
Check it out >> Library >> Libby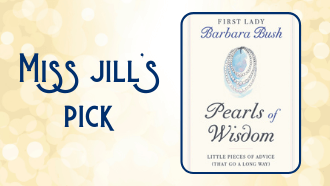 Pearls of Wisdom: Little Pieces of Advice (That Go a Long Way) by Barbara Bush
What it's about: First Lady Barbara Bush was famous for handing out advice. From friends and family to heads of state and Supreme Court justices, and certainly to her staff, her advice ranged from what to wear, what to say or not say, and how to live your life.
She especially loved visiting with students of all ages, from kindergartners to college graduates. When she turned 80, she owned up to all her advice-giving and explained it this way: After all, in 80 years of living, I have survived 6 children, 17 grandchildren, 6 wars, a book by Kitty Kelly, two presidents, two governors, big Election Day wins and big Election Day losses, and 61 years of marriage to a husband who keeps jumping out of perfectly good airplanes. So, it's just possible that along the way I've learned a thing or two.
At the end of the day, she taught all of us some valuable lessons. As First Lady, she made a point of cuddling a baby with AIDS and hugging a young man who was HIV positive and whose family had rejected him, showing us by example the importance of compassion and the myth of fear. As a mother, she made sure we all knew that your children must come first, and one of the most important things you can do is to read to them. As a friend and mentor, she showed that you had to be true to yourself, and even at the end of her life, she taught us how to die with grace.
Full of Barbara Bush's trademark wit and thoughtfulness, Pearls of Wisdom is a poignant reflection on life, love, family, and the world by one of America's most iconic -- and beloved -- public figures.
Why Miss Jill loved it: Mrs. Bush cared and loved people. She expected great things from people and they would give it because of the respect they had for her.
Check it out >> Library >> Libby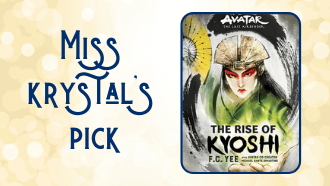 The Rise of Kyoshi by F.C. Yee
What it's about: After years of searching for the next Avatar, the four nations have found peace with Avatar Yun--until Kyoshi, Yun's friend and servant, demonstrates remarkable bending abilities herself. With the identity of the true Avatar After nine years of desperate searching for the next Avatar, the discovery of young, charming Avatar Yun has brought stability to the four nations--that is, until Earth Kingdom-born Kyoshi, Yun's unassuming friend and servant, demonstrates remarkable bending during a mission to the South Pole. With the identity of the true Avatar at stake and the growing unrest among her allies turning into violence, Kyoshi is forced to flee the Avatar mansion with her fiery friend Rangi, taking little more than the metal war fans and headdress her parents left behind.
It isn't easy finding Avatar training on the run, but Kyoshi and Rangi find unlikely supporters in the daofei: ragtag criminals and outlaws living in the shadows of the Earth Kingdom. Torn between following the traditional path of an Avatar and seeking vengeance for those she has lost, Kyoshi struggles to accept her newfound power as she trains in secret. But while Kyoshi, Rangi, and her daofei friends face off against brutal underworld rivals, those who seek to control the Avatar draw ever closer to her, leaving trails of the dead in their wake.
The story behind the longest-living Avatar in the history of this beloved world, The Rise of Kyoshi maps Kyoshi's journey from a girl of humble origins to the merciless pursuer of justice still feared and admired centuries after becoming the Avatar.
Why Miss Krystal loved it: It's been a while since I've been in the world of the Avatar, but F.C. Lee wrote an excellent origin story for Avatar Kyoshi. If you loved the TV shows, then this is a perfect addition to the world. I was so invested in it and can't wait to listen to the second book.
Check it out >> Library >> Libby >> hoopla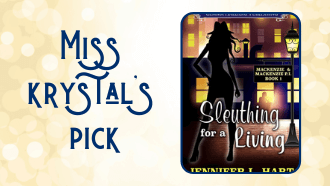 Sleuthing for a Living by Jennifer L. Hart
What it's about: As a young single parent, Mackenzie Elizabeth Taylor has struggled to provide for her teenage daughter. She finally catches a break when she inherits half of an apartment building in Boston from her uncle Al...along with his P.I. business. So what if she doesn't know the first thing about investigation or if their hot-but-crabby downstairs tenant is a police detective who's looking for any excuse to handcuff her? Her daughter, Mac the computer whiz, has her back. And these two girls don't know the meaning of the word quit—not even when their first case takes an unexpected turn.
The man Mackenzie's been hired to follow in a custody case seems to have upset more than just her client when she spies another person tailing him—a mysterious man Mackenzie would bet is up to no good. But when her mark suddenly winds up dead, and her first and only client is accused of his murder, Mackenzie vows to find the truth. Only one problem: she doesn't know where to start…or when to draw the line. Who is the mysterious man she spotted tailing the victim? Is he the killer? Is she in over her head, or will she uncover the secrets someone killed to keep hidden? Mackenzie and Mackenzie are on the case, and the world of private investigation will never be the same.
Why Miss Krystal loved it: It's a mashup of Gilmore Girls and Stephanie Plum (minus the ridiculousness) that hits the perfect note for me. As soon as I put it down I couldn't wait to pick it up again. I especially loved the mother/daughter/BFF relationship between Mackenzie and Mac. Mackenzie's personality and antics kept me laughing and cheering her on. The entire series is great.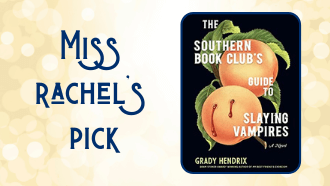 The Southern Book Club's Guide to Slaying Vampires by Grady Hendrix
What it's about: Fried Green Tomatoes and Steel Magnolias meet Dracula in this Southern-flavored supernatural thriller set in the '90s about a women's book club that must protect its suburban community from a mysterious and handsome stranger who turns out to be a blood-sucking fiend.
Patricia Campbell had always planned for a big life, but after giving up her career as a nurse to marry an ambitious doctor and become a mother, Patricia's life has never felt smaller. The days are long, her kids are ungrateful, her husband is distant, and her to-do list is never really done. The one thing she has to look forward to is her book club, a group of Charleston mothers united only by their love for true-crime and suspenseful fiction. In these meetings, they're more likely to discuss the FBI's recent siege of Waco as much as the ups and downs of marriage and motherhood.
But when an artistic and sensitive stranger moves into the neighborhood, the book club's meetings turn into speculation about the newcomer. Patricia is initially attracted to him, but when some local children go missing, she starts to suspect the newcomer is involved. She begins her own investigation, assuming that he's a Jeffrey Dahmer or Ted Bundy. What she uncovers is far more terrifying, and soon she--and her book club--are the only people standing between the monster they've invited into their homes and their unsuspecting community.
Why Miss Rachel loved it: This is a story that sucked (pardon the pun) me in totally. It's about a group of southern women in the 90's who form a true crime book club after becoming discontent with the more proper book club offered in their neighborhood. At first you think it's just a mildly amusing story but it takes it's time, showing the flaws and strengths of the women's relationships. The Bad Guy is charming in a Bundy-esque way whose supernaturality really is secondary to the plot and not the traditional, romanticized vampire . Its a slow burn that reveals human weakness and the fragile balance of the mundane in our lives...or...it's like watching your Mom fight a vampire: awkward and real with frustrating mistakes but you can't look away.
Check it out >> Library >> Libby >> hoopla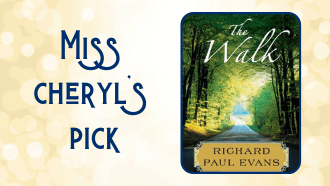 The Walk by Richard Paul Evans
What it's about: "My name is Alan Christoffersen. You don't know me. 'Just another book in the library,' my father would say. 'Unopened and unread.' You have no idea how far I've come or what I've lost. More important, you have no idea what I've found." —Prologue
What would you do if you lost everything—your job, your home, and the love of your life—all at the same time? When it happens to Seattle ad executive Alan Christoffersen, he's tempted by his darkest thoughts. A bottle of pills in his hand and nothing left to live for, he plans to end his misery. Instead, he decides to take a walk. But not any ordinary walk. Taking with him only the barest of essentials, Al leaves behind all that he's known and heads for the farthest point on his map: Key West, Florida. The people he encounters along the way, and the lessons they share with him, will save his life—and inspire yours.
Richard Paul Evans's extraordinary New York Times bestsellers have made him one of the world's most beloved storytellers. A life-changing journey, both physical and spiritual, The Walk is the first of an unforgettable series of books about one man's search for hope.
Why Miss Cheryl loved it: I love to travel. Walking with that is so interesting. I recommend the entire series.
Check it out >> Library >> Libby >> hoopla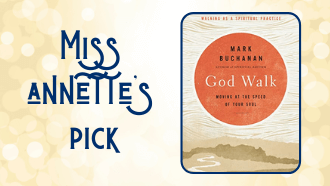 Author Mark Buchanan
Why Miss Annette loves him: Author (among other things) Mark Buchanan writes "I write because I can't help it." To that I say I am reading three of his books at the same time because I can't help it! They are: God Walk: Moving at the Speed of Your Soul, The Rest of God: Resorting Your Soul by Restoring Sabbath, and Spiritual Rhythm: Being with Jesus Every Season of Your Soul. As a sojourner I highly recommended putting these titles in your rations pack as they are feasts for the soul, rest for the weary and fuel for the journey.